How to use faucet Yenten Coin — free coins
You have installed the Yenten Coin purse, figured out its interface and how to get the first coins for free do not know.
There are faucet yenten coin — free distribution of coins. It is enough to go to the site of the faucet and enter the number of your wallet — get completely free of charge and quickly your first denyuzhki in crypto currency. The cranes are different, they are more precisely delivered in different ways: some times a day, others once an hour, the third need to perform some action.
Today I will tell about the faucet for Yenten coin, which gives coins to the wallet quickly and without problems, once per hour.
Read — instructions for using the faucet in pictures and examples;)
We drive into the address bar of the browser the site of the site faucet - http://yenten-pool.ml/faucet/

We get on the site of the faucet, they are usually filled with advertising and everything in hieroglyphs, this almost without ads and in «Russian English», we need to do only 3 actions: Copy the purse number in the address field, put a checkmark in the reaccess and click the send button.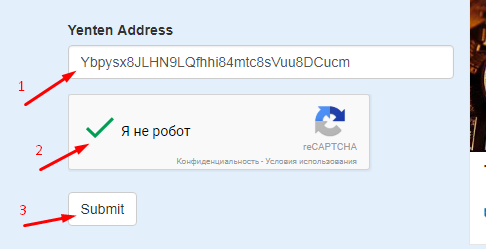 If everything is done correctly and the purse number from the Yenten coin, you will immediately see a joyful inscription that you transferred the number of coins transferred to you.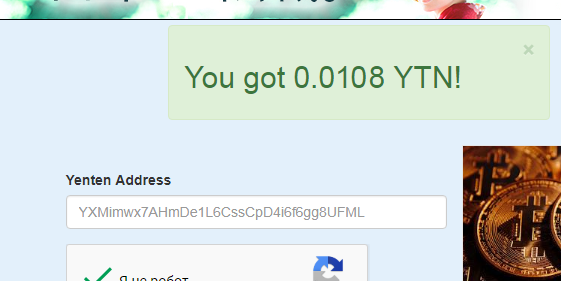 We open our wallet and see that almost immediately the translation was made and the balance of the wallet was replenished.
If you try again, «milk» (get) the transfer from the tap, then he curses and says — «man, wait 1 hour.»

Some useful information: the faucet site at the bottom shows the balance of the faucet, if the faucet helped in your endeavors acquaintance with the Yenten cryptonymet and you already own a large or medium number of coins, then donate the faucet. The address of the faucet purse is indicated immediately under the balance.

2 times click on our transaction in the list of recent transactions and see that it is not confirmed. So it should be, you need to wait 20 minutes for a minimum of 6 confirmations and the transfer will go to the confirmed status.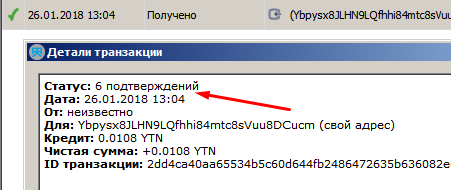 Hooray. The translation was confirmed. You are the owner of coins, you can set a purse for a friend, make a translation and tell about the Yenten faucet. Acquaintance with the wallet and the first transfer is over.
In the next article, we'll touch on the topic of yenten mining.
Советуем почитать